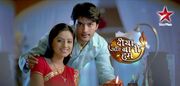 Diya Aur Baati Hum is an Indian television soap opera, broadcast on Star Plus channel from 29 August 2011. It stars Deepika Singh andAnas Rashid as the main protagonists.
This show is formally released in Hindi and is known as Diya Aur Bati Hum on Star Plus. It is also dubbed in Tamil and known as En Kanavan En Thozhan and in Telugu known as Ee Tharam Illalu and also in Sinhala known as "Swapna" aired on Sirasa TV. It also airs onPakistan's Urdu channel Urdu 1. The old episodes are also aired on STAR Utsav. The story has been adapted into Bengali as Tomay Amay Mile that airs on Star Jalsa and to Kannada as Akashadeepa which is aired on Suvarna and also to Malayalam.
Diya Aur Baati Hum is the story of Sandhya's struggles, who dreams of becoming an IPS officer. She dreams to break the boundaries of her confined existence of middle class values. The story is also about Sooraj, who is a self made man. Sooraj runs a famous sweet shop near his house.
Sooraj and Sandhya get married under strained circumstances. Sandhya will not be able to finish her graduation. Soon she is part of the family she does not know.
[1][2]Aamir Khan promotes Satyamev Jayate inDiya Aur Baati Hum*Deepika Singh as Sandhya Sooraj Rathi
Ad blocker interference detected!
Wikia is a free-to-use site that makes money from advertising. We have a modified experience for viewers using ad blockers

Wikia is not accessible if you've made further modifications. Remove the custom ad blocker rule(s) and the page will load as expected.